Book Now!
Get Best Rates and Benefits
*term and condition apply
Studio Room
Two-story apartments that combine a spacious living, dining, and bedroom area, all well-furnished to provide you with a comfort and affordability experience.
One Bedroom Villa
Well-appointed and tastefully decorated one-bedroom villas with a private pool. These villas span 100 square meters and provide an excellent choice for a relaxing vacation in Sanur, Bali.
The villa also offers private parking space for your convenience.
Two Bedroom Villa
Our two-bedroom villa with a private pool consists of a one-bedroom villa with an additional bedroom on the first floor. Each room is beautifully decorated and designed for your comfort.
The villa also offers private parking space for your convenience.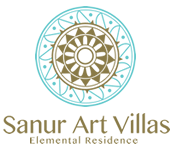 Sanur Art Villas at a Glance
Located just minutes away from the bustling main street of Sanur. Sanur Art Villas offers an environment where you can rediscover the meaning of harmony.
Designed with harmony in mind, our rooms aim to transport you into a state of relaxation and comfort. Each uniquely designed room provides a private sanctuary, allowing you to escape the daily hassles of life and find tranquility.
Stay in style – Reserve your Bali accommodation
Tucked away, this is a peaceful oasis. We opted for the 2 bedroom villa with its own swimming pool, very private as it is not overlooked. There is a lot of choice on the breakfast menu and to discover they also do evening meals is a bonus for us.They run a shuttle bus to the supermarket twice a day which has been useful especially on the first day when we were finding our feet. The staff cannot be praised highly enough. They are friendly and chatty and will put themselves out for you. I would highly recommend a stay here
This is The place to stay in Bali!!
My girlfriend and I booked a studio here last minute when we decided to stay in Sanur instead of Amed. We sure made the right choice! As the first time staying in Bali, and out of the United States, the staff made us feel very welcomed and comfortable, they all spoke very good English. They helped us book tours and rent mopeds and also found us drivers to get around with ease! The staff made us feel like family and were more than happy to help out and answer any questions.
Romantic, Modern and Relaxing
Very modern, clean and relaxing villas with your own private pool and all facilities to make your stay comfortable. Walking distance to restaurants, you may require transport to Sanur centre.
Enzo from the office is friendly and helpful and went out of his way to make our stay perfect.